INTERNATIONAL RECOGNITION
Member Status with UNAI (United Nations Academic Impact)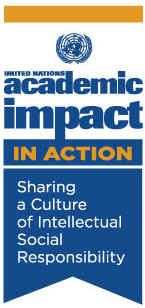 Dear and Respected Dr. Warneke,
Congratulations!
The University of America is now a member of the United Nations Academic Impact (UNAI). Attached is a certificate of your affiliation with UNAI. You join nearly 1000 colleges and universities in some 120 countries who are working with the United Nations to promote global priorities, including peace, human rights and sustainable development.
As a member you would be expected to carry out at least one activity in support of the UNAI and its ten principles during a calendar year. Please keep us informed about all your UNAI-related activities, which we would like to highlight in our Newsletter and on the website.
As a member, you are authorized to use the UNAI logo in all your promotional material.
Thank you.
Sincerely yours,
UNAI Team

Click HERE to view Certificate.)
(Click HERE to view the Ten Principles)