NEW FEATURE - Video Classes


If you would like to take your courses with access to video lectures, please

CLICK HERE


(Video lectures are not free. Administrative/Production Fee is $50/mo.)
THIRD LEVEL COURSES
for students who signed up before September 19, 2013 or students
who have received permission for a Special Course of Study.

ATTENTION MOODLE STUDENTS:
ALL STUDENTS WHO APPLIED ON THE SLBC MOODLE SITE
All students who signed up after September 19, 2013 are
in our moodle-enabled system. Therefore, they must
take all classes from and submit all tests and forms to
that website. The ONLY students allowed to take courses
from this current site are students who signed up BEFORE
September 19, 2013 or who have received permission for a
Special Course of Study. All others must goto the moodle-
enabled site for all course-work.
The moodle-enabled site is http://slbcrecords.org
Moodle students who use this current site cannot have their
work credited to them because it must go through the automated
moodle site in order to be added to their file.
THERE ARE NO POSSIBLE EXCEPTIONS TO THIS REQUIREMENT!
For all students who signed-up before September 19, 2013 or
who have received permissions for a Special Course of Study:


Before proceeding to take any
of our courses, please click on
this link to the TUTORIAL.
The Tutorial will guide you
through all of the procedures
you need to follow for taking
free courses from us to earn
your degree. Doc Van
- IF YOU WANT TO MONITOR COURSES FOR NO CREDIT -
Some people do not want to earn a degree but still want to take
the courses. This is called monitoring courses. This is allowed
because we want everyone to learn. If you want to monitor
the courses, please contact us through the MONITORING
COURSES form and inform us that you are going to do so.
This allows us to properly handle your tests by routing them
to a Monitoring Only file. While monitoring courses,
please do not submit any forms for those courses
except the original MONITORING COURSES
form informing us that you are doing so.
Please enter "No Credit" on all tests
in the field marked "User Name."
- TAKING COURSES FOR CREDIT TOWARD A DEGREE -
Please read and follow ALL of the instructions on this page.
Failure to follow instructions may result in
disallowance of work and tests and a loss of credits.
You must use the email address submitted on your Application form
on all forms and tests. If you change your email or want to use
a second email address, then please submit a Change Of Email
form. To access the form, CLICK HERE.
If you are taking classes for credit, please submit a Begin Sign In Form when you first start each course and then submit a Finish Sign In Form when you complete the entire course. You do not submit the sign in form when you "Finish" each lesson- only when you "Finish" the entire course. You can access these forms through the SIGN IN page.
1. This is a link to a COURSE RECORD FORM. Download and print a copy of that form for every course that you are going to take. Record all pertinent course information in the appropriate blanks provided on that form. You will need that information when you submit future forms and password requests.
After signing in, then click on a class and that will take you to that class page where you will find specific instructions on how to take the class. Please read and follow all instructions.
You must meet minimum attendance requirements for each course if you are taking the course for credit toward a degree. You must also meet the minimum attendance and testing requirements for each individual lesson in each course.
2. Students are also required to report their grades for verification to the Administrative Office every 6 months. This is accomplished by means of the TRANSCRIPT & GRADES FORM. To access that form, click that link. Your computer will ask you to specify where the form download is to be saved. Specify somewhere you will be able to easily find it.
To access an instruction video explaining use of the form, click HERE and scroll down to the video entitled How to Use the Transcript and Grades Template. Update that form every time you start a course and every time you pass a quiz/test.
ATTENTION: Be sure to submit a copy of the form to the college every six (6) months to keep your Academic File current. Keep updating the same form and add the new information to it and send a copy of it to the college. Do not use a different form each time.
CREDITS
In general, credits are figured according to the following schedule:
One credit being awarded per one-quarter course, two per semester, six per year. This general schedule of one credit per quarter course may be superceded by specific credit awards stated on individual course pages because some courses are more study intensive or present subject material of extra-importance.
GENERAL STUDY INSTRUCTIONS
These may be superceded by specific instructions given on the course main page.
Each section generally requires 1 week study/attendance.
You may NOT take more than one test in any one subject on one day including retakes of failed tests.

Look up every scripture referenced in the textbook and workbook.

At the end of each section, stop and take the section test if there is one.
Most tests are "open book" which means that you may use all study materials (workbook, textbook, Bible, etc.) while taking the tests.
ANSWERS: Those tests that are open book require the exact answer from the textbook, workbook, or Bible, whichever of the study materials are appropriate for the question. Incorrect answers, spelling, punctuation, extra spaces before or anywhere in the answer or after the answer, will cause the answer to be scored as "Incorrect." Along with the privilege of using your study materials and taking an "open book" test comes the responsibility of giving the answers to questions verbatim from those study materials.

You may NOT go on to the next section until you have passed the test for the current section and found all of the answers in the textbook to any questions missed on the current test, whether you passed it or not. The attendance for the next Lesson begins on the next day.

TESTING
Make sure you read and submit the Testing Instructions Agreement form if you have not already done so. Only one (1) Testing Instruction form is required per student. If you do not submit a Testing Instructions form you will not be able to correctly fill out the information page of the tests. And without a Testing Instructions Agreement form in your file your tests will be disallowed and they will not be credited to you.
You may NOT take more than one test in any one subject on one day. If you fail a test, you MAY NOT attempt that test again on the same day. You must restudy the textbook, the workbook, and your Bible (whichever is appropriate) and find all of the correct answers to the questions missed and then retake the test no sooner than the next day.

When you receive a passing score on a test you are required to find all of the correct answers in your textbook, workbook, or Bible, whichever is appropriate, for every question missed on the test. A copy of each test is automatically sent to you and you may use the correct answers listed on it to verify that you have found the correct answers in the appropriate study materials. This is required before you go on to the next lesson.

Sometimes the tests do not open when you first download them. This is an unavoidable slight quirk in some computers that causes them to have a bit of a problem processing the opening page of the tests, generally because of filters or security settings on the computer. If you get a blank page, please refresh the page and the tests will open. Either click the refresh icon or press F5 to refresh the page and open the test. On rare occasions, depending on your internet connection and your computer, it may take several refreshes to open the test. If the test still will not open, even after several attempts to refresh the page, then please contact us via the CONTACT form and explain the problem. Upon receipt of the form we will attempt to help you resolve the problem.
In all courses you must meet the minimum attendance requirement per lesson before taking any test, including your first test.
Example: If the requirement is that you can not do more than one lesson per week in a course, then your first test cannot be submitted until on or after the 7th day of that first week of attendance. If the requirement is one lesson every two weeks, then the test cannot be taken until on or after the 14th day of the 2 week period.
Attendance will be figured from the day that you turned in your sign in form for that course.
Attendance for each lesson after the first one begins the day after you passed the test for the previous section and have found the correct answer in the textbook for every question answered wrong on the test even though you passed the test.
---
Keep a record of your sign in dates to "Begin" a course because you will be required to enter that date on your Sign In "Finish" form submitted when you finish the entire course. A COURSE RECORD FORM is to be downloaded and one copy printed for each course you are taking. On it you must record the pertinent information for each course because you will need that information for the Finish Sign In form and the Password Retrieval form which you will submit at the end of each course. To obtain a copy of the Course Record form, please click the form title. The form is in pdf format. If you don't have a pdf reader then please download the free Adobe Reader from http://adobe.com
---
You may take multiple courses at the same time.
---
If a test is not submitted according to the minimum attendance per lesson requirement or the minimum attendance for course requirement, then that test will be disallowed and the student will have to repeat it when the attendance requirement has been met.
If you proceed faster than the required pace, then you will not retain the information in the text.

Minimum attendance for each course must be met.

If a course is marked "This course is not yet available." or "Available soon." in the following list, then proceed to the next course in the list.

All courses require use of the King James Bible. If you do not have one (or even if you do) then you can download a free Bible program from our study helps page. Click HERE to go to the study helps page to download your free King James Bible and bible study program. Once you are done with that page you may close that window to return here to proceed with your courses.


VIDEO COLLEGE STUDENTS ONLY
If you are registered with our Video College, SLBCV, you may request access to the videos by clicking HERE.
- WARNING - if you are NOT registered with the Video College, DO NOT ACCESS the videos. If you do try to access them and falsely submit the Video Request Form you will be expelled from Salt Lake Bible College/Salt Lake Baptist College. The expulsion will be for a period of six (6) months and you will be required to undergo Christian Counseling to restore you to proper Christian conduct concerning submission of false information, which is lying, before being allowed to continue with your courses. In addition you will lose credits for any incomplete courses at the time of your expulsion and you will be required to submit new Begin Sign In forms and start those courses over from the beginning.


Should you decide to register with the VIDEO COLLEGE and take courses through that college, please click HERE or click the link for "Video College" in the NAV BAR on the left side of any page with that bar at any time. The Video College is NOT FREE. There is a $50.00 USD per month Administrative/Production fee required of all students.
---
Practical Christian Ministry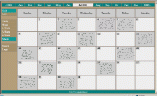 If you are actively involved in a ministry in your local church on a regular basis, then you are eligible for 1 credit per quarter (6 credits per year) for practical Christian ministry. "Actively involved" is defined as at least 1 or 2 days per week of some type of Church ministry.

---
Bachelor, Master, Doctor - THESIS

If you are working on your Bachelor, Master, or Doctor degree you will need to write a thesis of appropriate size and content before the degree can be issued to you. You may begin work on your thesis at any time but if you are within one year of earning any of the degrees listed, you need to begin work on your thesis now. To view the requirements for theses for those three degree levels, please click HERE to access the Thesis page.

---
Faith, the Building Blocks of Christianity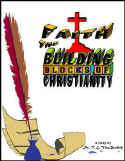 In this course you will learn about this thing we hear so widely mentioned, Faith. You will pursue the word through the scriptures and learn its meaning in the context of the many ways it is used therein. In addition you will learn of: dead faith and living faith; natural faith and spiritual faith; faith as an ability, and what its kinship is to the term, believe, as well as various other aspects of our relationship to this very necessary, and even essential, element in the lives of both the saved and the lost. (1 credit)
---
The Temple and the Tabernacle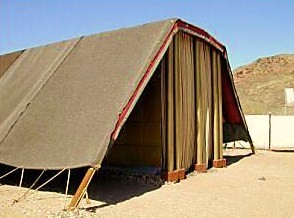 This course will help solidify the connection between the Old Covenant, symbolized by the Tabernacle and the Temple, and the New Covenant, symbolized by the cross and the modern Temple of God. It will also help expand on the groundwork established by your study of the book of Hebrews. Included in this study will be the histories of both the Tabernacle and the Temple(s) from both biblical and external sources as well as comparisons and explanations of their surroundings and contents. Comparisons to both the person and the work of Jesus Christ will be shown from the tabernacle and from the ancient and modern Temples of God. (2 credits)
---
First John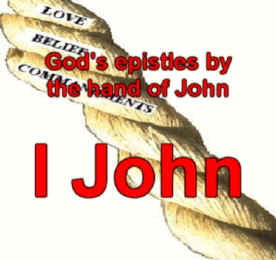 In this class we will examine the letter's origins, author, purpose, and a verse by verse study of its contents. Refutations of Gnostic teachings are keyed throughout the study. (1 credit)
---
Beginning Greek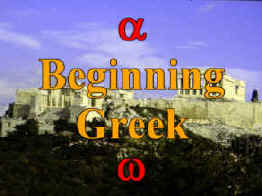 In this course you will get a primer in the original language of the New Testament, Koine Greek. (3 credits)
---
Mormonism I. - The Changing World of Mormonism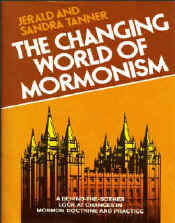 In this course you will learn about the changing world of Mormonism. In it you will study the changing face that Mormonism presents to the world as it pertains to Mormon Doctrine and Practice. You will also learn how they are making unannounced changes, unannounced to their own members as well as to the world at large, in their own modern literature to try to reconcile these changes with their own traditional stances as put forth in their earlier literature. (3 credits)
---
Mormonism II. - Mormon Claims Answered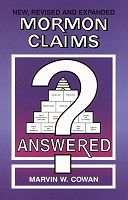 In this course you will study the claims of the Mormon religion and the answers to them.

---
Christian Counseling III.
Healing Words for Lonely People
In this course you will learn the biblical way of dealing with loneliness. You will learn its scope amongst the population and gain assurance that there is hope, and where to find it. The knowledge gained in this course will enable you to deal with any loneliness that may have already invaded your life, past or present, and you will then be able to use that knowledge gained to help others deal with this universal problem.

---
Christian Counseling IV.
Biblical Counsel for Christian Teens
Christian Counseling IV.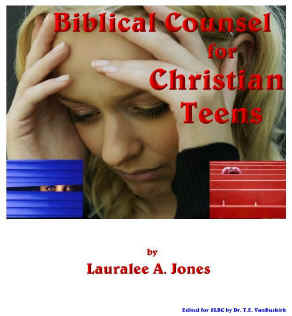 The heightened need of Teens today makes this course a must for anyone who believes the Lord has called them to counsel teenagers from the Word of God. General preparation of the Counselor and specific ways to counsel teens will be covered in this course.
---
Pastoral Practicum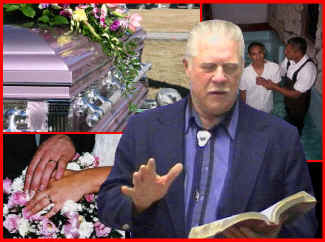 This course is designed specifically for those who plan on becoming pastors of local New Testament Churches. In this course you will gain practical experience in some of the more common duties of the pastor.
It is not a generally required course. Those not planning on pastoring do not have to take this course but they are encouraged to do so. Some students, even though not planning on pastoring, will be required to take it for their particular course of study. (4.5 credits)
Physical limitations:
If you are disabled and cannot perform the practice baptisms then you will be excused from doing that one physical part of the course. However, you must still do the textbook work and the reciting out loud of the baptizing phrases so that you will know how to properly train the helper who will do the actual baptizing for the church when you become a pastor or are asked by your pastor to help with the baptizing.
Prerequisite for the course: Student must have successfully completed "The Church," "Public Speaking," and the "Church Polity and Order" courses.
---
WOMEN IN THE BIBLE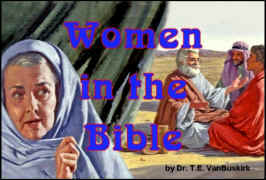 In this multi-part series you will learn about the (mostly) unsung heroes and (mostly) loudly sung villains of the Bible. Women.
Like their male counterparts, some of the women of the Bible were positive examples and some were negative ones. You will learn about both in this course and their contributions, positive and negative, to the progress of God's plan in the existence and progress of God's chosen nation, Israel, and also their contributions in the progress of God's plan for humanity in general and the universe at large. (Credits awarded varies for each independent course in the series.)
Part One: The Women of Genesis

(This course is worth 2 credits)
Part Two: The Women of Exodus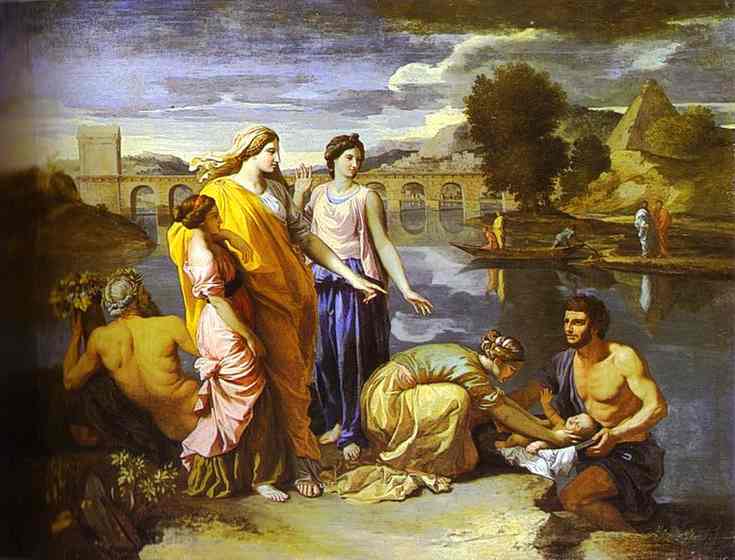 ---
Abraham, Friend of God, Father of Faith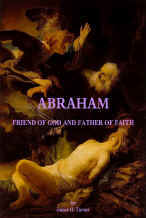 In this course we will follow the life of one of the great men of the Bible, Abraham. In the Scriptures he is call "the friend of God" and many have called him the "Father of the Faith." We will trace His life from Ur of the Chaldees on through the 100 years in which God dealt with him and on up to his death in Hebron and his burial in the cave of Machpelah alongside his beloved Sarah. Along this hundred year path we will study both the victories and the failures of this man whom God's Word called, "the friend of God." (1 credit)
---