This page is ONLY for those who want to
take courses For Credit toward a degree.
If you want to MONITOR ONLY
(not for credit toward a degree)
please click HERE
Click arrow below to view presentation video.

Once you have viewed the video, YouTube adds will appear.
To view the video again, refresh the page.
This tutorial will walk you through,
step by step, concerning how
to submit an Application and then
how to begin your first course.

Newspapers and Special Articles
NEWSPAPER to the Ukraine by Igor Sauchuk
Christmas, Yes or No by Dr. VanBuskirk

WORLD PROGRESS REPORT
You are visitor #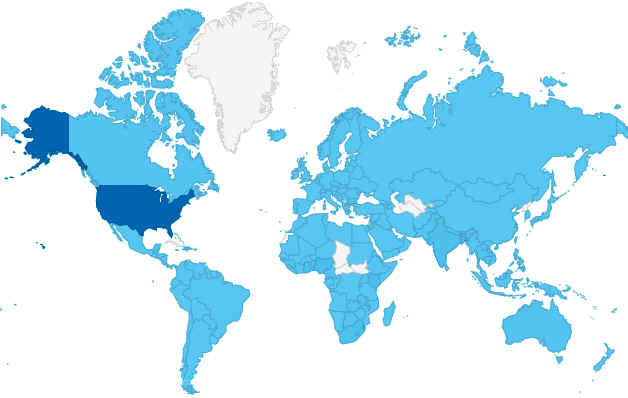 Light and dark Blue represents the countries where we are now
reaching the world with the Word of God through the online college.
(Click the picture to see the world progress of SLBC since its inception.)
(To see visitors since January 23, 2013 see Flag Counter at bottom of this page.)

God's message to all of
His children and especially to
students of His Word!
II Tim 2:15
Study to shew thyself approved unto God,
a workman that needeth not to be ashamed,
rightly dividing the word of truth.
You cannot properly serve God if
you do not properly know Him
and His Word - Dr. VBK

Regular Course of Study
Before proceeding to take any of
our courses for credit through the
Regular Course of Study, please
click on the link to the Tutorial at
the top of the column to the right.
The Tutorial will guide you through
all of the procedures you need
to follow for taking free courses
from us to earn your degree.
Once you proceed via the Tutorial,
and submit your Application from
it, you will proceed from that point
on SOLELY through the "SLBC
Moodle" site. You cannot submit
any further work from this current
site. If you do, it will not be added
to your academic file.
Doc Van
Special Course of Study
Must be approved in advance.
If you are studying at an advanced
level or if you only want to earn a few
credits to transfer somewhere else,
please click HERE.
Once you have arranged to take
a Special Course of Study, please
go through this TUTORIAL
to submit your Application and
other forms before proceeding
to your courses.
First Level Courses
Required for all new "Special
Course of Study" students.