SALT LAKE BIBLE COLLEGE

---
Donate to "THE FOUNDATION FOR BIBLICAL STUDIES"
(This is the parent organization that funds SLBC.)

---
In this course you will study the unbiblical doctrine of Calvinism. As we progress through the course you will see, from the scriptures, God's true teachings on Election and Salvation.
This study will be in several parts. Calvinism I and Calvinism II are required for all students. Student will earn credits for each part independent of the other.
---

CALVINISM I.
Calvinism I.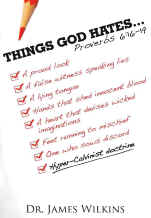 "One of the most disruptive doctrines that has destroyed whole denominations, starved more missionaries off the field and has sent more sinners to hell, is the wrong stress on the beautiful Doctrine of Election." (Dr. James Wilkins)
In this first course on Calvinism you will study the doctrine from the Scriptures; not from the literature, arguments, and misrepresentations, of the Calvinists. (1 credit)
---
CALVINISM II.
The subjects generally associated with Calvinism are discussed in this course and each is placed in its biblical perspective. (1 credit)