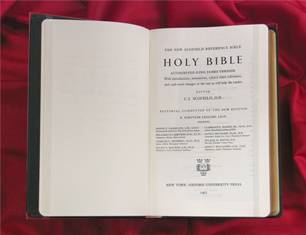 The Bible


The basis for all knowledge about God and His will for our lives.
This course will be a comprehensive study of the Scriptures as a whole. Origins, inspiration, preservation, and comparisons between the various major translations and the original texts from which they are derived are just some of the subjects that will be addressed.
When you complete this course you should have a good working knowledge of the history and reliability of God's Word, specifically the KJV, as compared with the other major translations and the various lines of original texts from which all translations have been derived. In addition you will also have the resources needed to dispute any heresies concerning it's inspiration in the originals and its preservation in the English since 1611 and in the New Testament and Old Testament original languages for the last three millennia.
METHOD OF STUDY
Attention: Read all of the instructions on this page before proceeding to the class.
You are required to read the Textbook in conjunction with the Workbook.
Textbook - The Doctrinal Chaos of the Translations, by Dr. T.E. VanBuskirk


You are required to read the Workbook in conjunction with the Textbook.
Workbook - Doctrinal Chaos of the Translations by Dr. VanBuskirk


You are required to look up every scripture referenced in both the textbook and the workbook, in your KJV Bible.


TESTING: Make sure you read and submit the Testing Instructions form if you have not already done so.
- All test links are in the html version of the workbook.
- RESULTS PAGE of tests: Save a copy of the Results page for every test in this course. That copy will need to be forwarded to SLBC so that your score can be registered to your file.
You can click HERE for instructions for saving a copy of the Results Page to your computer. You may want to print out a copy of those instructions or else you can save an electronic copy to your computer.


ATTENTION - SECTION TESTS IN THIS COURSE ARE ACTIVE AND MUST BE TAKEN
- SECTION TESTS: Links to the section tests are in the workbook. All section tests are open book tests, which means you may use your textbook and workbook to assist you while taking the test. Because the tests are "open book" then the answers must be the exact wording of the textbook, workbook, or the Bible, whichever is appropriate for the question. Take those tests after completing each corresponding section in the workbook.
- FINAL TEST: The link to the Final Test is at the end of the workbook. Once you have completed all sections of the workbook and completed reading the textbook, and passed all of the corresponding tests, and found the correct answers to any questions missed on all tests, and submitted the Finish Sign In form, then you may Retrieve the Password and, upon receiving the Password, take the Final Test for the course.


ATTENDANCE
For the complete course: Overall attendance for the entire course is 16 weeks minimum. The Final Test may be taken on or after the first day of the 17th week, computed from the date of your submission of the Sign In form to "Begin" this course. A Sign In form marked "Finish" is required before submitting the Password Retrieval form.
For each lesson in the course: Each lesson requires a minimum of 2 weeks attendance.
Section tests can be turned in on or after the 14th day of the required two weeks of attendance. The 2 weeks required attendance for the next lesson begins the day AFTER successfully passing the current test and then finding the answers to all questions missed either in the workbook, the textbook, or the Bible, whichever is appropriate for the question.


Please submit a BEGIN SIGN IN FORM to Begin this course if you have not already done so.


Record Keeping: Download and print a Course Record Form on which to keep all pertinent data for this course. You will need the information later and the form will also help you stay on track with the course. Also, record pertinent information on your Transcript and Grades Form. Submit an updated copy of that form to the college every six months.


Click the title to go to the textbook for The Bible course:
Open the textbook in either the "Medium size file" or the "Larger file":
Medium size file: Doctrinal Chaos of the Translations, The
by Dr. T.E. VanBuskirk. (1.7 meg. pdf)
(This is a color copy but it has a black and white cover to lower the size of the file for faster download.
Slightly Larger file: Doctrinal Chaos of the Translations, The (1.83 meg pdf)
(Colored copy, with a colored cover, suitable for printing.)


Click the title to go to the workbook:
Doctrinal Chaos of the Translations, The - Workbook (html) by Dr. T. E. VanBuskirk
This copy of the workbook has the links to all of the required tests for the course.

Caution:
The following link is to a pdf version suitable for printing for your own use.
It does not have the test links in it. If you use it for study, be sure to check the html version to find out when you are expected to take your tests and to access the links for them.
Doctrinal Chaos of the Translations, The - Workbook (pdf) by Dr. T. E. VanBuskirk