Chancellor:
Dr. Marshall Warneke

President:
Dr. T.E. VanBuskirk
COURSES DONATE NAVIGATION VIDEO COLLEGE WELCOME MAP
Salt Lake Bible College
"Training Men and Women For The Ministry"
Around The World

WARNING - ALL CURRENT STUDENTS
We are having issues with the third-party company that processes the tests.
Until further notice, if a test gets stuck at the "sending e-mail" stage of test submission,
send a copy of the Results page (which you have been instructed to save at all times) to
SLBC to be placed in your file in lieu of the Test copy that normally is sent to us.
If you do not submit a copy of the Results page of any tests that will not email
a copy to us, then you will be required to retake the test in order to have a
score placed in your file.

Not all tests are failing to send, so only forward a copy of the Results page to us
IF the test stalls at the "sending e-mail" stage. Otherwise, do not send
the Results page to us.

VIRTUAL CLASSROOM

You are welcome to "set in" on
the livestream classes when
they are in session.
However, to receive credit you
must be registered with the
Video College or be an
on-campus student
at SLBC in Utah.
---
June 2020 Video: on "Don't Leave God Out Of the Equation"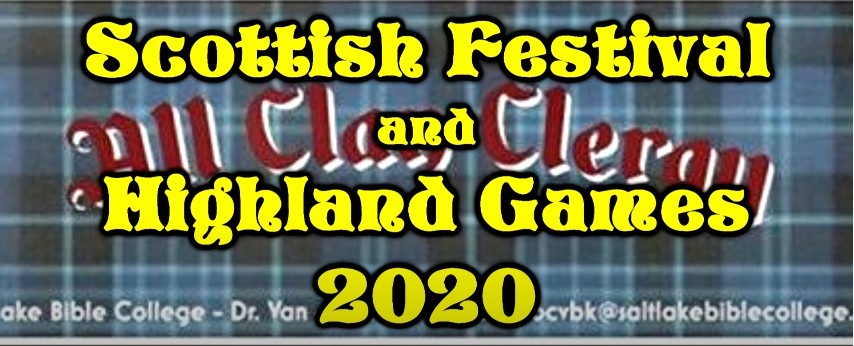 Video was made for the Utah Scottish Festival and Highland Games, held "virtual" for 2020.
(Click the study title to play the video.)
---
SLBC is a no-frills, tuition-free Bible College with all
Study Materials online for free download by students.
There is no charge to study the courses at SLBC. However, if
you want to earn a certificate or degree along with your free
studies, there is a $15.00 per month Administrative Fee
assessed for record-keeping and degree processing.
A Waiver is available for those who can prove
financial hardship. For students who register after
December 17, 2018, for you to receive a Waiver
you must submit an Administrative Fee
Waiver form before you begin your
studies. It is available on the
Administrative Fee page. If
you do not submit it before
beginning your studies,
then the courses you
study cannot be
credited toward
a degree.
Dr. Van

You can study to earn a degree, or Monitor Only!

---
We are desperately in need of expanded facilities. Please pray that the God will supply that need for SLBC. We are praying for 20 acres of land on the Wasatch Front in Utah with at least one large building on it.
Thank you - Dr. Van

---
PROFESSIONS OF FAITH IN CHRIST
74,300+
(Updated June 24, 2020)
NEW PAGE FEATURE
began in July, 2017
If you are: (1) a current or former staff member of SLBC online or at one of our Study Centers, (2) a current or former student at one of our Study Centers or of SLBC online, (3) a member of a Church that is using SLBC study materials (4) or if you are currently Monitoring courses, (5) or a current member of the Board of Advisors, please report any Professions of Faith in Christ in which you are directly involved.
We would like to include those in our total listed in yellow above. We do this to encourage others to get involved with the college in prayer and/or financially so we can continue to supply free courses to train God's People to take the Word of God, including the Gospel of Jesus Christ, to the lost.

Thank you - Dr. T.E. VanBuskirk - Pres. SLBC
You are visitor #


hitwebcounter.com
---

This is a Presentation Video of SLBC updated for 2018.
After the video is completed other YouTube video
advertisements will appear on the screen. To
watch the Presentation Video again,
simply refresh this page.
---
CANCELLED
2020 HOME MISSIONS
CHURCH PLANTING CONFERENCE
April 14-16, 2020
Salt Lake City, Utah USA
In concern for the health of those who attend our Missions
Conference we believe it is in the best interests of everyone
involved that we cancel the meeting this year.
SEE YOU NEXT YEAR!
Dr. Marshall Warneke
Bible Baptist Church - Taylorsville, UT
---
TESTIMONIES and RECOMMENDATIONS
---
Graduation, Matriculation, Inauguration
photos and videos
2018 Graduation Salt Lake Baptist College (home campus)

Graduating Class - Nigeria


Graduating Class - Philippines





Graduating Class - California



2017 Graduating Class
(SLBC Oversight Campus
for all Study Centers in India)



Logos Bible College - India



Graduating Class - Uganda

Graduation, Matriculation, Inauguration photos of
main campuses in Utah and California and various
STUDY CENTERS